As of mid 2019, Reftab supports integrating your Reftab assets with your Jira account. This is the first iteration of the plugin. 
Current features include:
Linking Reftab assets to Jira service desk issues
Viewing asset details on linked Jira service desk issues
Within Reftab, viewing linked Jira Issues when viewing assets
Reftab will be enhancing this plugin to add more features.
Steps to configure the plugin:
You will need an Enterprise Plus subscription plan to integrate Reftab into your Jira instance. If you do not have one, you can sign up for a free Reftab account and start a two-week trial of the Enterprise Plus plan by clicking the, "Click Here To Start Free Trial" link. Then, log out of your Reftab account. (we will be logging back in shortly).
2. Once your Reftab account is set and you are logged out, log into Jira, and click the gear icon at bottom, then click "Apps"
3. Click, "Find new apps" and search for "Reftab".

4.  Install the plugin by clicking "Get app".

5. You'll see a box appear on the right hand side, indicating the app is "adding" to your Jira instance. Once the plugin installs, click "Configure" in this same box:
6. Next, you'll see instructions on screen. Go to the Reftab login page and click "Remember Me" and login with your Reftab account: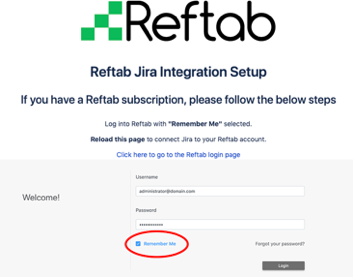 7. Then, reload the Jira page. Wait until you see "synchronizing" .

8. When it's complete, it will say 100% Synchronized. Next,  you will need to configure the custom asset field and place the field on screens. This allows assets to show up on Jira issue and, on the 'create issue' screens for end users.
9. Back in Jira, click the Jira Icon
10. Click "Jira Settings"
11. Click "Issues"
12. Next, click scroll down until you see the Fields section, click "Custom Fields" 
13. Next, at the right hand side of the page, click "Add Custom Field"
14. Next, select "All" on the left side and click "Assets" and click "Next" 
15. Name the field Assets. Give it a description and click "Create". It is important to specifically enter "Assets" into the name field (sans quotes).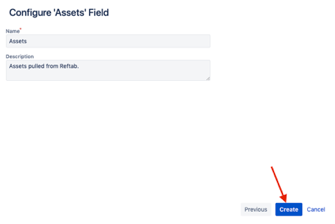 16. Next, select the appropriate screens you want the assets drop-down list to appear on, and click the "Update" button at bottom.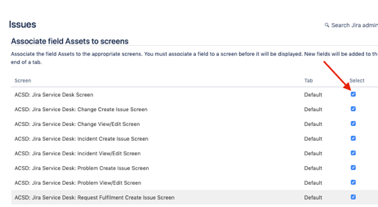 17. Next, we'll edit our project so that the assets field is available on the 'help-center' of the customer / end-user facing service desk screens. (This is the page that end users who submit help ticket will use – they will be able to select their assets they currently have assigned to them in Reftab).
18. In Jira, go to your Service Desk Project and on the left hand side click "Project Settings"

19. Next, Click "Request Types" 
20. You will see a list of your custom requests. You can click any of them where you would like the assets field to appear. In this walkthrough, we'll click "Edit Fields" for The Desktop / Laptop support request.
21. Next, click the button, "Add Field" on the right corner:
22. Select "Assets" and click "Apply"
23. Now the fields are configured.
24. To test this, click the Jira Icon.
25. Click on your Service Desk Project
26. Next, click on any existing issue:

27. On the right-hand panel of the issue view, you'll see the list of fields. Locate the "Assets" field. This is how you can link an asset to an issue.
28. You will now be able to link assets to issues.  When you select an asset,  you will be able to view asset details in the issues screen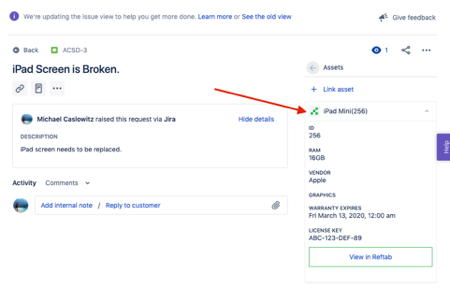 (If you click "View In Reftab" a new browser tab will open to that asset in Reftab)
29. When you are in Reftab, if an asset is linked to a Jira issue, you can click the "Jira Issues" button and it will display all the Jira issues and the status of the ticket: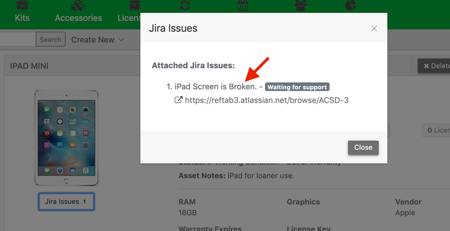 Next, we can see what end-users see when they submit issues from the Help Center
Users will log into the help center and click on your service desk. They can click on the item for Computers help.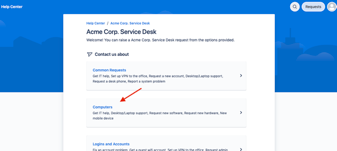 When they click on "Desktop / Laptop support"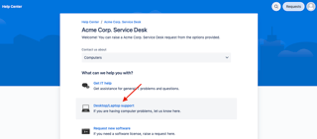 They will see the Assets drop-down field where they can link their asset to the issue they are submitting.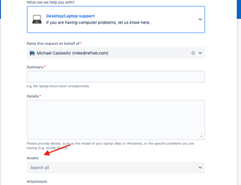 NOTE: when a user selects the Assets dropdown, it will show items in a list. The first items in the list are ones that the user currently has assigned to them. The next items in the list are any unassigned items in Reftab. For example if a user finds a broken printer, they can still select the printer when creating an issue even though it is not assigned to them in Reftab.
Additional Information: Jira will pull in assets as they are created in Reftab.
The Reftab Jira plugin is complete. For any questions please reach out to info@reftab.com.
Thank you!